AUTHORIZED SWAPLOADER DISTRIBUTOR
Hoppel Fabrication Specialties has been mounting hooklift hoists for years and we are now proud to be an Authorized Swaploader Distributor. This enables us to provide more flexibility in competitive pricing by offering incentive discounts for competitive conversions, multiple mountings and customer referrals. Swaploader has recently expanded their product line to include 15 different models spanning a variety of industries and lift capacities. They also offer a 4 year "All Parts Warranty" and are proudly designed and built in the U.S.A. In addition to offering you mounting services we are also able to customize your trucks with a variety of accessories both inside and out. From in cab computer towers to custom toolboxes, light bars, storage compartments and everything in between we are sure we can design a truck specifically for YOU and definitely exceed your expectations to meet your business needs! So if you are in the market to add to your fleet, or currently have a hooklift hoist from a competitor in need of an upgrade, allow us to consult with you and offer a free estimate.
COBRA ROLL OFF SERVICE
Rick Marino owner of Cobra Roll Off Service and a local business leader in the Waste Management Industry needed to replace 3 trucks in his fleet, and desired a unique yet efficient design. He knew exactly what he wanted; a complete hoist mounting system with a jib hoist reinforcement, PTO, controls, tower, heavy duty front bumper with tow point, hydraulic exterior rear ICC bumper assemblies, hydraulic actuated scaling system and a hydraulic articulating tarper assembly. The hook lift is a SL240 Swaploader with 24,000 lb capacity mounted to a new Kenworth T370 truck. Due to the demands of Ricks business, he added heavy duty hitch assemblies with pintle hook options. Finally, we designed and fabricated custom light bars, light boxes, utility baskets with broom and storage compartments, a board storage rack and stainless steel trim. It was Ricks vision to equip his employees with the necessary tools & equipment to get the job done in a time efficient manner yet, he wanted to give his trucks a professional and noticeable appeal while on the road servicing his customers. We wish Cobra continued success, thank them for the opportunity be a part of their vision and look forward to working with them on their next project.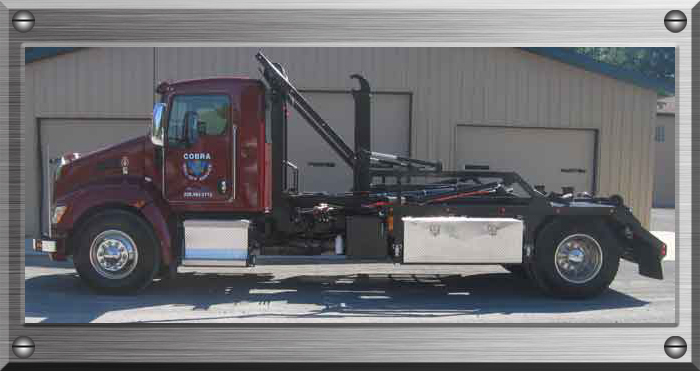 SWAPLOADER HEAVY DUTY SL545
The SL545 is definitely in the heavy duty category and ready to take on the grueling workoads of the roofing, recycling and large construction industries. Capable of accomodating truck bodies from 17-22 feet in length with low pressure hydraulics and unique slide through body locks. Equipped with dual rear pivot and dual lift cylinders offering more strength and more capacity. This hoist was mounted to a 2015 International Chassis and has a few accessories the customer requested to make it his "One Of A Kind" such as; a hydraulic tarping system complete, air control upgrades, heavy duty rear hitch with 30 ton pintle, rear light bars outfitted with complete LED lighting, tandem aluminum diamond plate fenders, custom aluminum diamond plate toolbox with stainless steel hinge and hardware.