HOPPEL FAB = QUALITY WORKMANSHIP
Hoppel Fabrication Specialties has created a reputation for building High Quality dump bodies, stakebeds and flatbeds for a variety of customized applications in the agricultural, landscaping, heating & cooling, building and construction industries. We are well known for our heavy duty welding and custom fabrication services, our truck beds and bodies speak for themselves - just ask our customers! They require tough equipment they can always count on to get the job done, and look to none other than Hoppel Fabrication Specialties to handle their needs. If you are in the market for a truck body that will do the job and stand up to the wear and tear of your industry, bring us your ideas and we will walk you through the design and fabrication process from start to finish. From emergency lighting to a complete assortment of hydraulic components we have the ablity to customize your truck bed to your exact specifications. Allow Hoppel Fabrication to build a truck for YOU that "FITS YOUR NEEDS". We take pride in our work, each customized bed is built to last and hand crafted with experience you can trust.
In addition, we also offer full hoist mounting services for roll off containers and are equipped to handle tandem axles, hot shift PTO's, and hydraulic tarping systems. We also specialize in custom medium and heavy duty truck hitches and mounts for a variety of applications. To fulfill your accessory requests we can outfit you with custom light bars, rear bumpers with fold down extensions, steps, stow away storage containers, toolboxes, running boards and even laptop towers to keep you informed while you are out on the road.
MARLBORO SUPPLY
Custom Diamond Plate Stakebed & Toolboxes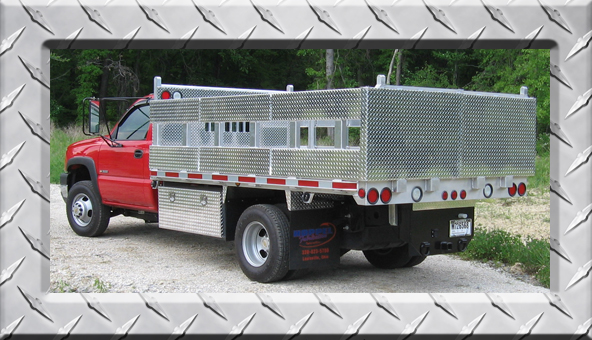 Scott and Marci Schwinn are the owners of Marlboro Supply a family owned and operated business since 1938. They are a leading distributor of drainage products for Northeast Ohio serving both commercial and residential markets. When they add work trucks to their fleet they have a vision with a specific purpose in mind. They have designed all their trucks to be equipped with the necessary tools to get the job done while at the same time their entire fleet represents their company in a professional manner. This truck was specifically designed to Scott and Marci's exact requirements and is one of many you will see on the roads as you travel through the quaint little town of Marlboro.
CUSTOM ALUMINUM DUMPBED — FLATBED
Dual Purpose Workhorse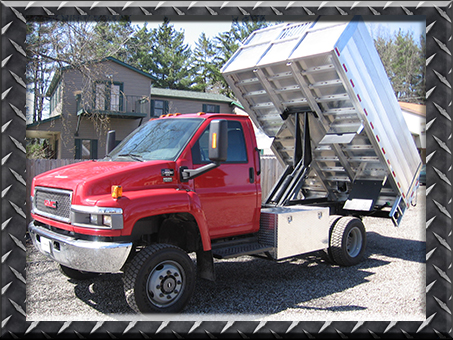 A nearby family owned and operated farm market came to us with a very special and specific request. They had a need for a dumpbed with removeable sides to also double as a flatbed. Out of the Box creativity is one our passions and we were excited to be given such a unique opportunity. Main body components are constructed from aluminum along with 3/16 aluminum tread plate flooring. The 4 foot bulkhead was designed with see through window bars and a custom fabricated toolbox allows for stow and go items while out in the orchard. The final finish includes all LED lighting including a heavy duty rear light bar and a heavy duty hitch