CREATE THE RIGHT TOOL FOR THE JOB
When it comes to fabricating custom equipment, Hoppel Fabrication Specialties has you covered. No one knows your business better than you do, and we invite you to share your equipment expectations with us so we can join YOUR team to design and deliver you a piece of equipment "Built to Fit" your business needs. We offer custom fabrication, building and design that is suited to your specific requirements. We have designed and manufactured equipment that cover a variety of application and industries. Such requests we have fulfilled include equipment for: Military K9 Units, Coal Slurry Reclamation, Fire Escape Assemblies, Stainless Steel Cooling Assemblies, Vegetable Washing Flumes, Chain Guards, Casting Troughs, Heat Shields, Stair Assemblies, Filter Housings, Raceways/Cable Enclosures, Shooting Benches, Hydroseeder Chutes, Outdoor Kitchen Counters, Generator Enclosure Boxes, Stow Away Storage Compartments. Requests for custom built equipment are a welcomed request for us, because it is our goal to equip you with everything you need to get the job done.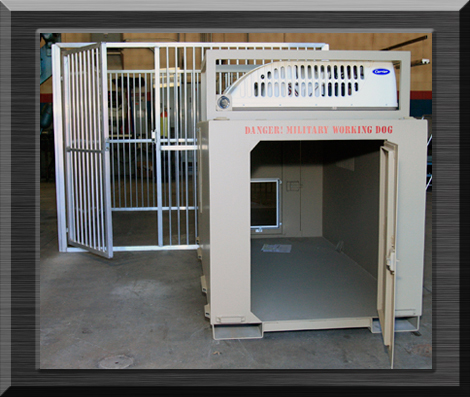 K9 MILITARY DEPLOYMENT
CONTAINMENT SYSTEM
13,500 BTU A/C Unit with Heat Strip
Ventilation Slots / Side Panels
Access Door Front & Rear
Desert Tan HDPE Panels
Powdercoated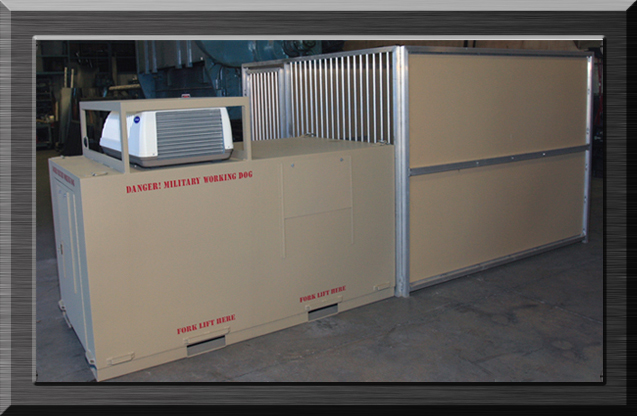 The Military Working Dog Deployable Kennel started out as a prototype in 2004 and was a basic aluminum dog crate. Over the years the product has evolved with upgrades, modifications and revisions to create a fully self contained mobile kennel unit for K9 military working dogs serving our troops in the Middle East. Constructed of aluminum with stainless steel hardware to minimize corrosion, the kennel is designed to house all associated equipment during shipment. Customized with an additional enclosure of 8' long x 6' wide aluminum fence panels designed to fit within the kennel housing unit for additional exercise. As an added convenience It is equipped with a man door for easy access, 2 generous openings for the K9 officer to enter the crate and exit into the kennel.