HOPPEL FAB IS YOUR METAL DREAM BUILDER
Hoppel Fabrication Specialities designs trailers personalized for Your Business, this service is meant to complement our custom truck bodies. We are a licensed trailer manufacturer and have the ability to fabricate custom trailers tailored to your exact specifications. In an effort to meet your growing and changing business demands, we encourage you to customize the design of your trailer to suit your specific needs. We invite and welcome custom fabrication requests and enjoy assisting our customers in making sure they have the necessary "Tools of their Trade" to maintain and grow their company. Our trailers are built with the same industrial strength, quality and durability as our custom truck bodies. We offer a large selection of trailer parts and accessories to meet all of your personal and business needs, and are equipped to supply and install axle assemblies, brake assemblies, suspensions, lighting systems, electrical & hydraulic components and much more.
Custom 28' Aluminum Deck - Steel Rail Trailer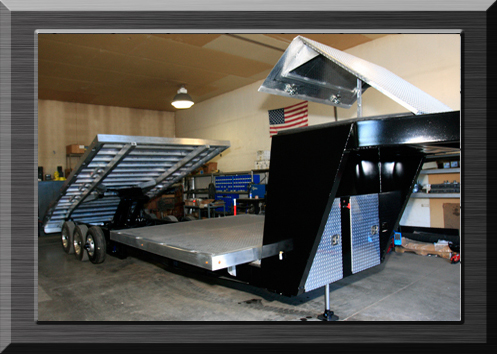 8' x 102' Stationary Diamond Plate Front Deck
18' x 102' Tilt Diamond Plate Rear Deck
Dual Storage Compartments
Gooseneck 5th Wheel Hitch
12 Ton Hydraulic Hoist
8K Torsion Axles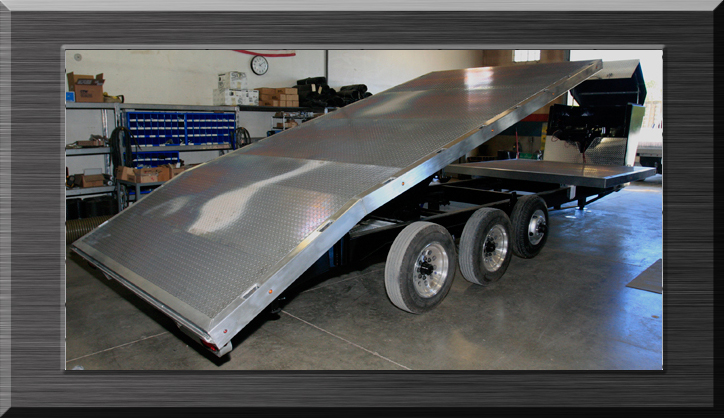 This customer came to us with a vision, it was his dream to design his own custom trailer. As the project began to evolve and take shape he was inspired to think outside the box and the design became much bigger than he originally planned. This is a fully customized Gooseneck 5th wheel trailer equipped with a complete hydraulic system to operate the rear tilting deck, including a hydraulic jack, 12 ton hoist, 13HP Honda engine, custom fitted storage boxes and generator housing unit.
Custom 27' Aluminum Gooseneck Trailer

Marlboro Supply specializing in drainage products needs to be able to offer outstanding delivery services to their clients. This trailer is one of the largest in their fleet and Hoppel Fab was happy to have been given the opportunity to design and build this custom trailer. It sports a 27 foot aluminum deck with bulkhead and 2 rear swinging doors along with full length aluminum racks on each side and stainless steel inserts. Pockets and tarp rail on sides accompany a tie rail underneath with two 7K torsion trailer axle assemblies and 17.5 aluminum wheels and tires with a mounted spare. Equipped with LED lighting for markers, directional signals and cargo work lights and finished with a rear ICC bumper, heavy duty front jack and 2 aluminum ramps with storage locations.