OVER THE TOP CONCEPTUAL DESIGN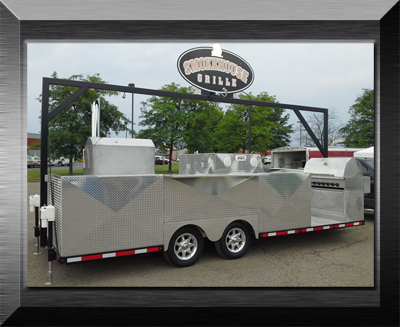 8' x 20' Trailer with 3,500 lb. torsion axle assemblies
Stainless Charcoal Grill and Prep Areas
Stainless Smoke and Steam Cabinets
Remote Insulated Steel Smoke Box
3 Basin Sink, Saute Grill, Fryers
Chrome Aluminum Wheels
Electric Leveling Jacks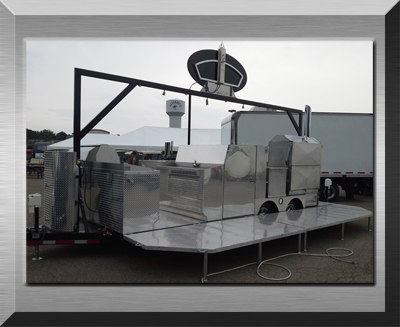 DIAMOND PLATE EVERYWHERE!
Over the Top Specialized Customization
Fold Down Catwalks 360 Degrees
Custom Flame Shooting Signage
Overhead LED Lighting System
Stereo Surround System
Retractable Awnings
Massive Storage
This is truly a One Of A Kind Outdoor Mobile Concession Kitchen like nothing ever seen. While this project may not be technically classed as a"Prototype" it certainly represents itself as a fine example of what conceptual design represents at Hoppel Fabrication Specialties. Totally customized to the specifications of our client to be fully functional in all categories of BBQ, Steaming, Smoking, Grilling and all food prep. It is constructed of diamond plate, stainless steel and steel tubing for reinforcements it is definitely an over the top design we enjoyed creating.