SUCCESS MUST START WITH A SOLID FOUNDATION
Hoppel Fabrication Specialties defines custom metal fabrication as the very foundation on which the organization was created and sets us apart from others in the industry, it is part of our identity; it represents who we are, what we do and is the fuel that fires our passion to design and create. One of our greatest assets is the ability to consult with our customers to help them design custom equipment, trailers, and accessories that revolve around THEIR business. Listening to their needs and goals allow us to gain greater insight into the vision and mission they have strategized for their company. We view our customers as "partners" and believe that if we strive to outfit each one individually, we can tailor the "fit" that suits them best. The end result... both parties walk away as winners!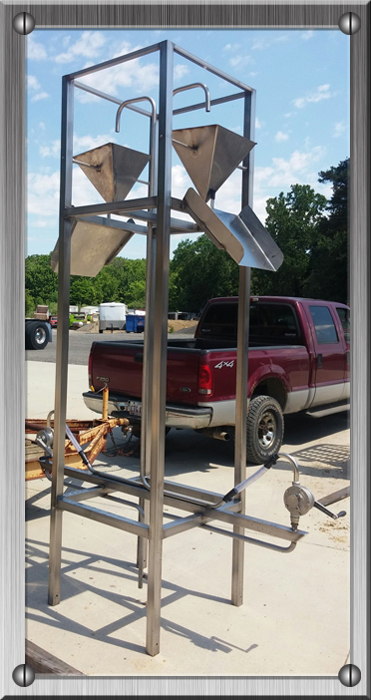 Water Challenge Tower
To the left is a waterpark attraction designed for Clearwater Park located in Hartville Ohio. This 2 person Water Challenger Tower is an interactive game that's a race to see who can SOAK who first ! Each opponent has a hand crank pump that siphons water from the pool up to the top of the tower that fills a bucket. Once the bucket has reached capacity it tips over on the slower player soaking them from head to toe. This unit is fabricated from 304 stainless steel and designed as a stationary unit to be permanently mounted and installed in place at the shallow end of the pool.
Vegetable Rinsing Station
The photo below is a Vegetable Washing Flume Station. Otherwise known as an Industrial Lazy River for vegetables. The veggies enjoy a gentle float through the flume as they receive a refreshing rinse before they are packed and relocated in the friendly healthy produce section of your favorite farmers market. Constructed and fabricated from 304 stainless steel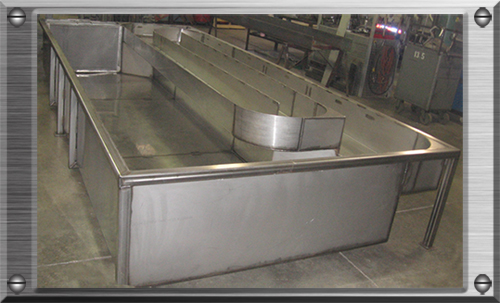 We offer shearing, forming, bending and shape burning services to compliment our customer fabrication. Our dedicated team of employees have a continued commitment as well as their years of experience and unparalleled skills to provide you with quality workmanship regardless of the size of your project. We welcome the opportunity to partner with you to take your business to next level to soar above your competition